Welcome to CustomsForge Forums
Register now to gain access to all of our features. Once registered and logged in, you will be able to create topics, post replies to existing threads, give reputation to your fellow members, get your own private messenger, post status updates, manage your profile and so much more. This message will be removed once you have signed in.
Login to Account
Create an Account
getting this error when i click generate in toolkit.
Started by
akaKrypt
,
Jun 01 2018 01:09 PM
#1

Offline
Posted 01 June 2018 - 01:09 PM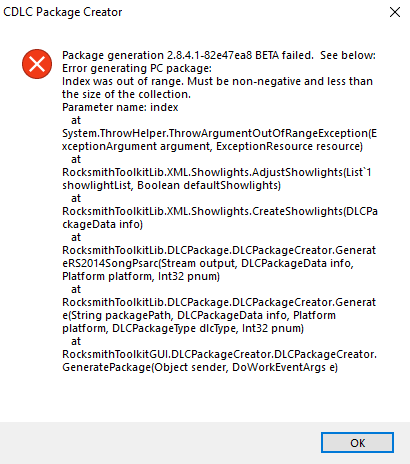 anyone know why and how to fix it?
---
#2

Offline
Posted 04 June 2018 - 09:06 AM
Are you tired of AV False Positives??? Now accepting donations on my website (Click Here) Your donation will be used towards buying a code signing certificate. CGT is now compatible and safe to use with Rocksmith® 2014 Remastered ...
Latest Build of Custom Game Toolkit (CGT) w/ Game Save Gigbox Latest Build of Rocksmith Toolkit Latest Build of Customs Forge Song Manager (CFSM)
All bug reports and help requests please include your: OS, CPU, AV, .NET Framework versions along with a description of the issue (include screenshots of error if possible). It should go without having to say ... make sure you are using the latest build before submitting bug reports or asking for help.
* Remember to use your magic words (please and thank you) if you would like a response. Don't use phrases like 'thanks anyhow' as it is demeaning.
---
---